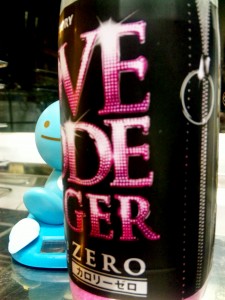 Beverages were in order after an hour of shoe-shopping with the girls tonight.
Yesterday, Leah started referring to her month-old footwear as her "stupid shoes". I would have, too, if my little 17.0 size feet were being constricted in even smaller size 15.0 shoes!
Tags clipped and new, pink Hello Kitty sneakers comfortably in place, we walked a short distance to the grocery store.
With their enticing packaging and promising flavors descriptions, these two sodas were chosen for the coveted spot in my minty-green two-handled plastic JusCo shopping basket.
Studded with pink faux rhinestone lettering and a shiny zipper reminiscent of the Rolling Stones' Sticky Fingers (perfectly placed along the perforation to "unzip" label for recycling, of course), on appearance alone, Suntory's Love Mode Ginger Zero had me salivating like a Pavlov dog.
However, this "sweet and dry ginger ale" proved all bark and no bite. The flavor is overpoweringly diet-sweet and only jests of ginger – weaker than plain-old store brand ginger ale. After a few obligatory sips to be sure I really hated it, I put down the bottle.
If you're looking for a bitter-sweet, pink Cadillac alternative, I highly recommend Itoen's Sparkling Pink Ginger, which combines bold ginger with a hint of apple cider vinegar. The ginger-vinegar flavor is true to pink gari, the tsukemono served at sushi restaurants to refresh and cleanse the palate.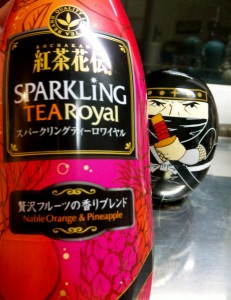 One of my favorite delights of living in another country is to experience other-world flavors created by familiar brands. As I think about it, there are rarely special flavors of soda available back home, and, while Coca-Cola has come a long way since Forty Barrels and Twenty Kegs, the folks back home will never know.
Sparkling Tea Royal is one of these delights. Although misspelled due to translation (there is no "V" sound in the Japanese alphabet), the "nable orange" is tartly recognizable upon first taste, followed the delicious roundness of tropical pineapple with a perfect black-tea finish.
Best of all is the understated carbonation in this drink that makes this beverage both a tea and a soda.
The combination is sort of what you'd expect if a bottle of delicately bubbled Gerolsteiner made love to an exquisitely flavored summer tea, blended so perfectly that consumers would argue over which parent their child resembled more.