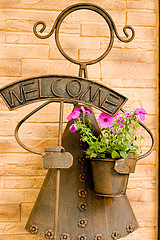 Two blogs I love are sending traffic my way this week! Please stop by these Internet gems, both with long-time spots on my blogroll, and say konnichiwa:
The Flourishing Mother : This week, I'm being featured for Andrea's Momma Monday column! Last March, I quoted from Andrea's Post, "I Made a Meal for Jesus," which challenged me to think of Jesus as a friend and to do things, like making dinner, as if was doing them directly for Him. It was life-changing for me.
Feminia: Nancy Wilson, who has written of some of my favorite books, coauthors a delightful blog with the ladies in her family. Recently, she invited readers to post their blogs for a Tour the Readers' Blogs Party… so I did! There are many great bloggers who responded to her post. How about you add yours?
You're also invited to check out my Welcome! page as well as send me an email to introduce yourself. Please let me know how I can best pray for and/or be of encouragement to you. If you have them, please let me know your Twitter handle and blog URL so I can check out your corner of the Web.
For the latest monthly care package giveaways and brand new posts, click here to subscribe!

Photo credit: chez_sugi via Flickr