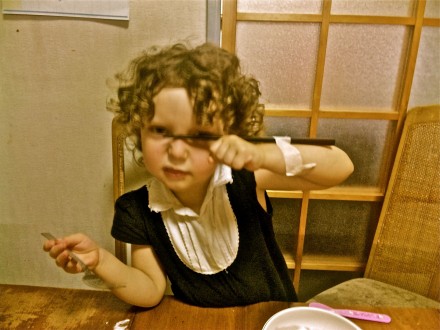 If you ask Leah what she wants to be when she grows up, she'll still tell you she wants to be an assassin.
Recently, on the xBox360, Tom and the boys have been playing Assassin's Creed II.
In it, Ezio, the assassin, has a poisoned blade he uses to poke targets. They die moments later, after he is long gone.
While I was making Elise Bauer's Pork Mango Picadillo this evening, Leah snuck up on me and pricked me with her homemade poisoned blade, fashioned by Aiden out of masking tape and a chopstick. "Tsss!" she hissed, and then ran into the other room announcing, "Hey guys, I poisoned mom and she will be dying soon!"
To which, I screamed, grasping at my throat and falling to the floor, "HEY! Who is going to cook for you… aaaaaaaaaahhh!!! I'm dying!!!!!"
Apparently the promise of not killing me only applied to being mauled to death by tigers.
If it wasn't for her bringing me back to life with her kisses, I'd still be dead and you wouldn't be reading this. (Nope. Still dead. See? I can only open one eye!)
As she sat at my table eating her scrumptious dinner, poison blade still attached, she declared, ""Mom, the aliens in Mars Attacks said (alien voice and all) "'We come in peace, we come in peace.' But, they KILLED everyone so they're LIARS!"
She'll be different, of course.
She will only tell the truth as she kills people.
"I am Assassin's Creed II," Leah said, non-nonchalantly pointing to her contraption with her fork, as if I hadn't noticed or remembered what it felt like to be poisoned.
"Even assassins need to eat their dinner," I said as seriously as possible, hoping she didn't notice me snickering into my armpit! I didn't have to remind her twice, though. It was gone.
She wanted seconds.
So, I've eaten two plates of Pork Mango Picadillo… um… and a few bites right from the pot. Make this and you may just have some interesting dinner conversation, like we did. Then, stop over to Simply Recipes and tell Elise how amazing she is! You can also follow her (personal tweets) on Twitter @simplyrecipes and again at @recipeupdates (recipe feed).
.