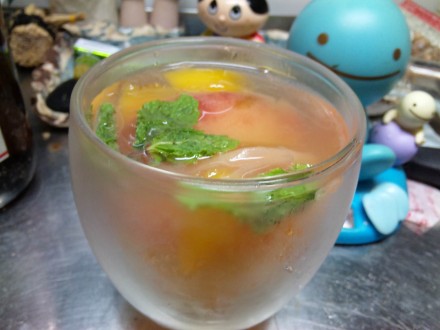 Sarah's Peach Sangria
Mouthwateringly succulent. The hint of mint adds just enough contrast to the palate to fully appreciate the peachy goodness. Dry ginger ale adds a subtle layer of complexity, complimenting the fruit with some sparkle. (Perfect for hot summer nights!)
1. Mix together and steep over night in the refrigerator:
1 Bottle Barefoot Pinot Grigio
1 Cup Peach Liqueur
1 Cup Peach Juice
3 Ripe peaches, sliced
10 Green grapes, halved
2. Ready to Serve
Fill highball glass 3/4 full with Sangria mixture.
3. Add Sparkle
Fill to just under the brim with Dry Ginger Ale.
4. Garnish
Accent with fresh mint sprigs, gently crushed to release flavor.