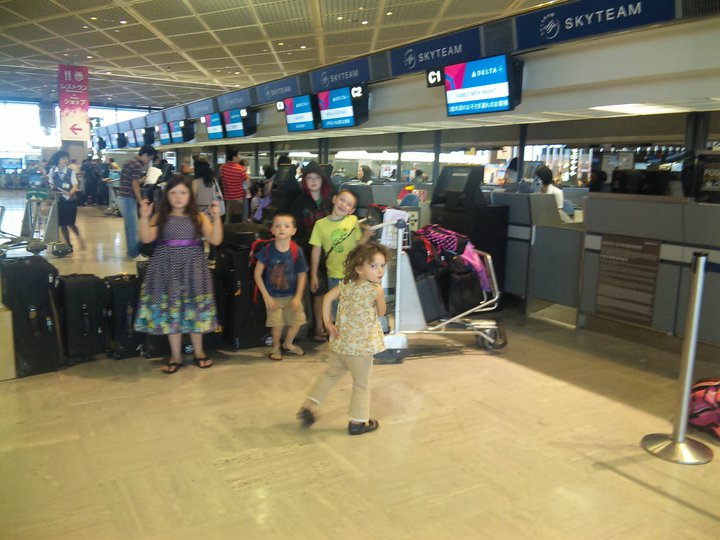 We're back in the US…
While we knew we were coming back, we did not have an exit date… until the very last minute.
On a Friday, Tom got the "all clear" to call the movers.
Monday, the movers sent out someone to inventory the house and estimate the move. It took 30 minutes to assess the house, and we were told all was well and they'd be by in three days to pack.
On Tuesday, I got an email saying, "your household goods require more than a 40ft container – 19,000 lbs – which will cost an additional $7,000 out of pocket to add a 20ft container."
Tuesday afternoon and Wednesday morning, instead of packing our suitcases, spent my time frantically trying to get rid of items in our house. However, none of our friends needed anything by way of furniture.
Wednesday afternoon, I wrote to the moving company and said, "Something isn't right. Our family of seven moved ALL of our items over here in a 20ft container and there is NO WAY we need 60 cubic feet! I would like to put our move ON HOLD until you can send another person out to reassess the house."
Late Wednesday night I got an email from the moving company saying (paraphrased), "Oops! Our bad! See you in the morning!"
::insert crazy cleaning / packing / sorting until 4am on Thursday morning::
Thursday morning, the movers arrived early. Instead of watching them waiting patiently in our driveway until 10am, we invited them in.
The finished up just after lunch, a day ahead of schedule.
Thursday night, we slept in a hotel…. with more kids to beds than was probably legal.
Friday morning, before I could get to the house to clean, I received a call from our relocation company saying that "the landlord is in your house and says it's dirty… and that their Japanese furniture is missing."
We rushed to the house.
I immediately got on the phone with the translator.
The house was empty when we moved in. There was NEVER a Japanese dining set in our house.
The landlord's property manager told my translator that he didn't think there was ever a dining set in the house, but, out of respect for our elderly landlord and his wife, was pursing the matter. ::facepalm::
Friday night, we slept in the same hotel… but in the crown suite. This way, we could all be, at least, in the same room.
We flew from Aomori to Narita, expecting to have a few hours in between our arrival time and the big flight… only to find out that our tickets had been canceled. When we purchased our tickets, our children tickets were in random places all over the plane. Tom called the airline to try to move our seats closer together.
Twice we were put on hold, and twice the call was dropped. It was getting late at night, and we decided to wish for the best and sort it out at the ticket desk at the airport.
However, during our time in Hold Music Hell, our tickets were mistakenly canceled. The reservation number was there, but the seats had been given to others.
Nearly $30,000 on our credit card later for last minute reservations, we had a flight booked for two days later, seats together.
Flights were the smoothest yet – no turbulence, no snags, no mishaps – and, while we were a bit delayed due to our tickets, the two days of rest were much needed. For once, I stepped onto an International flight feeling refreshed instead of sleep deprived… which is good, because, during the flight, I hardly slept at all.
We then had a six hour layover in Minnesota, where I sat down to lunch and fell asleep with my head on the table – and then took a flight to Philly.
We took a taxi from the airport — coincidentally, the driver had lived in Japan, and was married to a Japanese woman — to Tom's parents house.
Sleep deprived and exposed to many germy germ germs, the kids and I all came down with a horrible sore throats, fevers and coughs.
Tab and Micah ended up with ear infections to boot.
We're just starting to feel better.
At least we're HERE.