Welcome to my blog!
I'm Tom's wife, the mother and homeschool teacher to five great children – and yes, I'm "too young to be their mother." I am also a provisional Bradley Method natural birth instructor and I've been known to write an article here and there.
As of November of 2008, I live in rural northern Japan. When we first arrived, a short-term missionary was helping at church and asked if I was a missionary. I said, "Let's just say I'm an 'accidental missionary'. It's not why I'm here per se, but I can't help but share my faith wherever I go. It's pertinent to every area of my life. Christ is so important to me, I can't stop talking about Him.
Proverbs 30:25 is my theme verse because it is a reminder to keep pushing, while I try to balance being a wife, mom, friend, neighbor, church member, writer, gardener, cook, housekeeper, counselor… so many things. It's easy to get overwhelmed and feel very small with so much on my plate. Even though the ants are but little creatures, they accomplish great things because of their preparation. I have observed that ants are quite flexible and have endurance – if they have a huge object placed in their path, they don't stop working! They either climb over it or go around. Proverbs 6:6-8 also talks about the ant, "Go to the ant, O sluggard, Observe her ways and be wise, Which, having no chief, Officer or ruler, Prepares her food in the summer, And gathers her provision in the harvest." Ants make for an interesting unit study!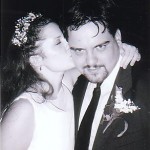 I tend to be very transparent in life, as I realize that everything is open and laid bare before the Lord (Hebrews 4:13-16) and that I have nothing to hide from God or from others. Blogging helps to hold me accountable to what I believe, because it solidifies it in writing. I hope that my blog is of encouragement to those who read it and that it will convey the testimony of one whose life is not her own, but bought with a price (1 Corinthians 6:17-20).
That being said, I fail every single day, and I want my readers to know that I do. My biggest struggles are perfectionism, pride in my accomplishments, and anger (almost always with myself, in a very debilitating way).
Life isn't all sunshine and roses. It can be very unfair, grueling, painful, heartbreaking, humiliating and lonely. However, the purpose of my blog isn't to give glory to these things, but rather to a God who is faithful in all circumstances. In my writing, I intentionally focus on lessons learned and things that remind me of Philippians 4:4-13. In hard times I often read through my old posts, eat my words, and count my blessings.
Please let me know how I can best pray for and encourage you.
PS: If you really want to know more, you might consider reading what I would like read at my funeral someday as well as these two quirkier "Things About You" posts… although, I warn you, my life is such an adventure and my ideas so random, you're never going to be able to figure me out completely ;)

Tagged: 16 Things About You