Tomorrow, the children and I will pick the winner for the October Giveaway. I can't wait to see who will win October's Bento Box Giveaway… maybe it will be you!!
With over 60 excellent suggestions in the comments (check 'em out and add some more!) on how to include children in the kitchen PLUS the extra entries, the drawing is turning into a big paper clippy-mess production!
(No worries, it's totally worth it and I'll do it again in the next few days once I finish procuring the items for November's giveaway!)
In the mean time, I'd like to share with you a note I received from September's giveaway winner. It made my day, and I thought you might enjoy it, too.
Much love,
SJA
PS: Stay tuned — to be posted soon — working on editing videos on "How to fix shoji" (Japanese sliding paper doors) as well as a footage of the rice harvest on our farm!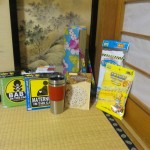 The package did arrive and the kids had a ball looking at everything inside. I so wish I had thought to grab the camcorder to get their reactions on tape. You wouldn't believe the oohs and aahs and squeals that were going on! The kids loved seeing the different types of money and though the explanation for the one with the hole in the center. The little dress is absolutely adorable! And I can tell we're going to have a ton of fun trying all the different shapes. Guess what we're going to be doing on some of the looooong winter days we're going to be getting soon?!

Thank you again for being so sweet to send all the things to us. The kidlets are now even more excited about learning about Japan. And the one who was set on learning German as her foreign language? Yeah, she's changed her mind and now wants to do Japanese!

Hope you and yours have a wonderful day, and a great weekend! (I hope to make it back to your site soon and catch up on some of the older posts and the anything new you've put up lately.) Till we have a chance to chat again, take care. And give all those young'uns of yours a gianormous 'HI!' and a hug from over here in the states.