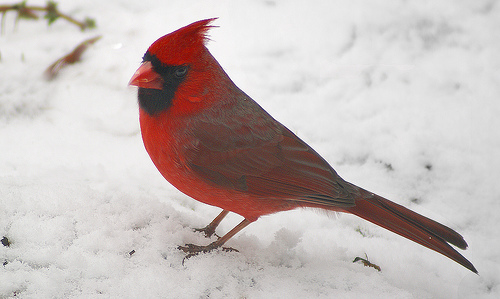 Winter is beautiful.
Colorful birds, Christmas lights and conifers are contrasted by a bright white canvas. Snowfall brings a natural, muted calm to the busyness of the season. Aromas like spicy cinnamon, pine and cookies made from grandma's handed-down secret recipe bring back warm memories of parties past and being asked to read the story of Jesus' birth from an enormous family Bible.
Winter is also harsh.
Snowy wind and freezing temperatures can be too bitter for little ones to play outside for long, and icy roads cause terrible things like church and playgroup cancellations.
On especially snowy days, when ever last piece of snow gear was soaked, my mom would bring out a big roll of newsprint and we'd make beautiful snowflakes to hang on the windows. Mom would carefully fold the paper to make more realistic, six-sided snowflakes, and would cut detailed diamonds, hearts and moon shapes. One year, we sprayed the paper snowflakes with gold paint and used them to decorate our Christmas tree. It looked amazing.
Finding fun things to do on bad-weather days is one of the many responsibilities that come with the territory of parenthood.
This month's giveaway (sorry it's late… went on a mini vacation to Tokyo by myself for a few days… thanks again, love!) is designed to make beating the winter blues a little easier. I've never seen origami paper so cool, and I had to share the crafty goodness with my readers.
What is your favorite creative way to spend bad-weather days as a family?
Maybe it's using a calligraphy pen to write beautiful verses or poems over children's watercolor paintings to frame and give as presents, turning household books into a library by using scrap paper date cards, rubber stamps and Polaroid photo ID library cards, or ordering from your children at their plastic food restaurant (my brother reminded me the other day that ours was called "McDonaking") …I'd like to know!
Please share your best family-friendly activity tip in the comments of this post to be eligible to win this 11-piece origami prize pack: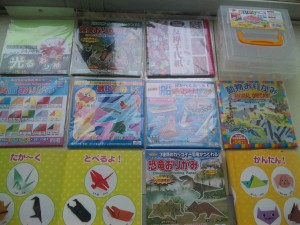 (Click photo to enlarge)
Eight packs of Japanese origami paper:
Glow in the dark paper
Japanese floral print (3 variations)
Japanese fighting beetle printed paper
Waterproof boat making paper
Animal print (zebra, giraffe, tiger and more!)
Dinosaur skin-print paper
Two-toned paper for more dramatic origami
Colorful fish themed origami paper
Two origami folding instruction books
Easy "Level 1" book
Intricate "Level 6" book
One, 400 sheet capacity origami paper carrying to help make your creativity portable.
From the list of comments (and yes, you have to leave a pertinent comment in order to qualify!) my children will draw the winning name.

My hope is that this giveaway will bring some sunshine to the winter doldrums and inspire parents to help their children have fun, and make some happy life-time lasting memories together in the process.

BONUS: If you mention this giveaway in your blog (send me a "proof" link) or Tweet (via @mrsalbrecht), you will get ONE extra entry. (C'mon! I know some of you get a little carried away with this stuff and I can't keep track of THAT many tiny pieces of paper!!) PLEASE do me a small favor and post a "proof link" or copy of Tweet so I'm sure to not to miss your extra-entry qualification. (Thanks!)
Please leave your comment by 9PM EST, January 8, 2010.
The winner will need to provide their mother's maiden name, social security number, and a valid US credit card number + three digit secret code. JUST KIDDING! I will, however, need their name and mailing address which will be kept strictly confidential.
If they're agreeable, I'd like to interview the winner and feature them in a future post. I would consider including links in the post to the winner's blog, favorite cause, home business, etc.
Winning contestants may not enter my subsequent monthly giveaway contests for a year following their win. In other words, if you win in January, 2010, you cannot enter again until January, 2011.
Origami, Snowflakes and Other Paper-Related Pleasures:
Origami Club (English version)
Robert J. Lang – Origami Artist
Enchanted Learning : Paper Crafts
Photo Credit: Winter Cardinal by JMitaStudios via Flickr