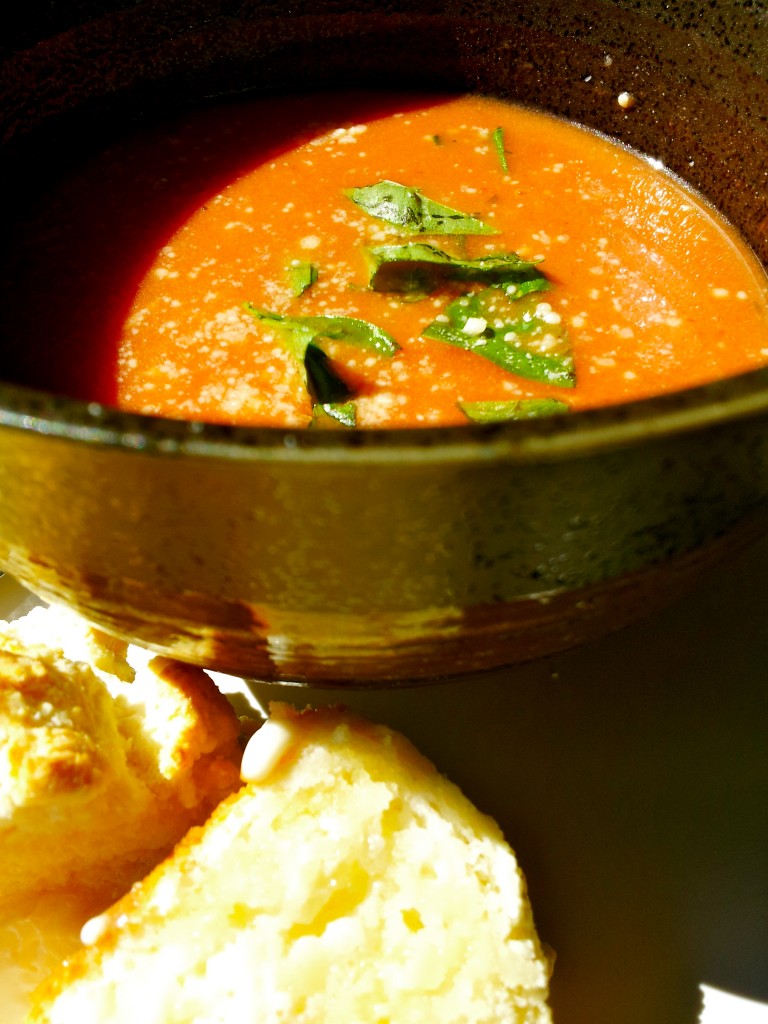 Better is a dish of vegetables where love is
Than a fattened ox served with hatred.
Proverbs 15:17
The cupboards are getting bare.
September's grocery money is nearly gone.
We're breaking into the canned food.
Today's lunch was a simple canned (store brand even!) Tomato Soup. However, a pinch of Parmesan cheese and a sprinkling of fresh basil from the garden turned a mundane can of boring into a steamin' hot feast. The biscuits were from America's favorite baking mix and took 5 minutes to make. They baked while the soup came to a simmer.
I almost didn't make the soup today because my children – yes, the same ones who will eat ear-ringing hot sauce and international curries – don't like tomato soup and the complaints were quite loud.
Still, I insisted that, even though it wasn't their favorite food, it was sustenance and that perhaps by adding ingredients, it wouldn't be as bad as they'd imagined.
Empowering them with a plate of biscuits to crumble in, snippets of basil and a container of Parmesan, they each created their own version of the soup.
Every bowl was finished down the last drop.
Don't merely be content, be creative. It's easy to look at what is set before us – food-on-a-budget, possessions, parenthood, employment and even relationships – and feel as though we have to suffer through. Yet, there is joy to be found in taking something ordinary and making it better; redeeming it.
Sometimes "making it better" doesn't involve changing the object or situation itself, but our attitudes. When our mindsets change from drudgery to thanksgiving, we are then free to contribute meaningfully and nurture. Nagging and complaints stem from a root of bitterness. Compliments (finding the good) and nurturing grow from love.
Love is like Parmesan and fresh basil to store brand canned tomato soup.