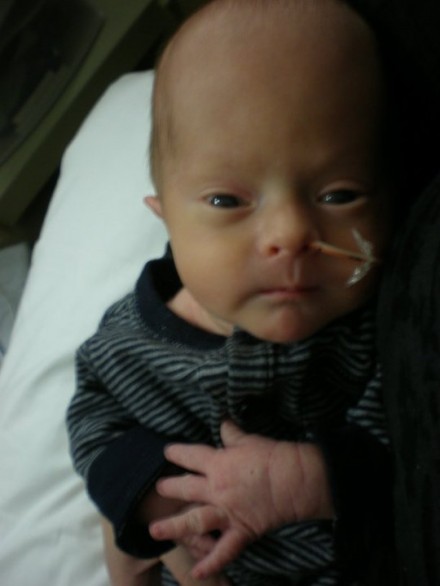 Levi, my newest nephew, has finally come out of sedation — watch out, world! ;)
Born with spina bifida on Nov. 30th 2010, my sister's baby has gone through two big surgeries: one to repair his spine and one to put in a shunt to drain fluid from his brain.
Since his first surgery occurred when he was just hours old, he's been under sedation pretty much since birth and it's so very cool to see pictures of him alert.
While there are still some concerns, he's healing remarkably really well.
Bethany has even been able to nurse him!
She writes,
He is no longer on any air, he has no bandages at all on back or head! He got a bath, we can put clothes on him…he gained a pound….shunt looks like it is placed perfectly, his head went down 1 cm over night….and the big one is that I got to nurse him 3 times today and he did perfectly! i couldn't believe how well he knew what to do! It was very special for me. I can pick him up whenever I want to now so I spent most of the day holding him, and he looked into my eyes allll day! It was great!
My sister and her husband Mike are doing an awesome job taking care of Levi. I'm so very proud of them!
You can just tell Levi's a little fighter with a big personality, eh?
Please stop by Bethany and Mike's Caring Bridge site and let them know they're in your thoughts and prayers!