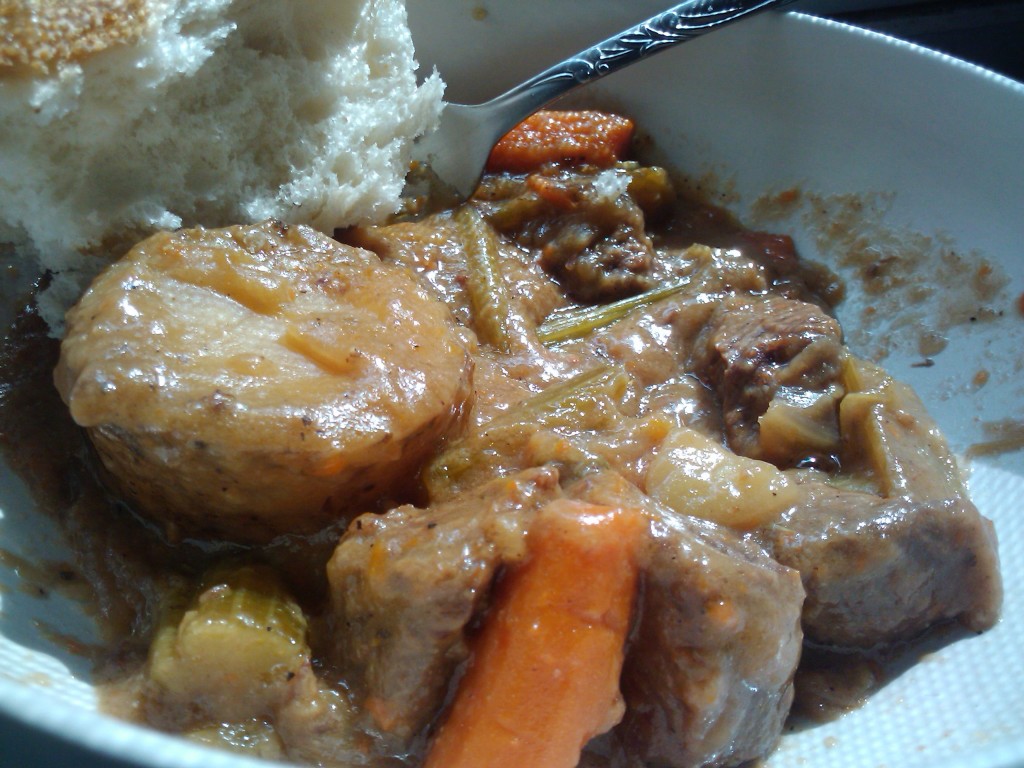 Last night, Tom and I went to see the Brandywine Roller Girls' All Stars in Elkton, MD. While we had wanted to attend, we had a lot of work to do yesterday and actually going was a last minute decision. This meant that I was in a bit of a scramble for dinner… again.
I skimmed through my pantry and fridge, and whooped with delight over my remaining buy-one-get-one-free London Broil.
Utilizing the fast-acting magic of my trusty pressure cooker, below is the recipe I came up with… and it was so yummy, I had to write down for posterity's sake.
This well-seasoned stew that tastes like it's been roasting all day long. (Shh! It does! Pressure cookers really are magical!) The thickened stick-to-your-ribs broth is way more enjoyable than plebeian clear pan juices, not to mention much more fun to mop with a crusty piece of bread.
When washed down with some frothy autumn ale, you might even feel a bit rustic while you enjoy this meal and, for a moment at least, forget that your heating bills are about to increase.
Sarah's Mustard & Herb Beef Stew
(Pressure Cooker – Approx. 30 min total cook time)
10 Servings
Main ingredients:
3 lbs London Broil, cut into 2″ cubes (Beef roast or other stew meat would work, too!)
4 lg celery stalks, cut into 2″ pieces
4 lg carrots, cut into 2″ pieces
10 medium thin-skinned potatoes, halved
1 large onion, thinly sliced
32 oz beef broth
Flavoring ingredients:
2-3 TB brown mustard
2 TB Worcestershire sauce
5 fresh sage leaves
2 bay leaves
1 tsp dried Italian seasoning
Prepare in Ziplock bag and SAVE remainder:
2 cups flour
2 tsp salt
1 TB garlic powder
1 tsp freshly ground black pepper
Cooking oil
Directions:
In small batches, place cubed beef into Ziplock bag and shake to coat with flour mixture. SAVE the remaining flour mixture!
Pour oil into the pressure cooker pot Рenough to coat the surface. When the oil is hot, saut̩ the onions to al dente. Remove the onions with metal tongs and set them aside in a mixing bowl.
Brown the floured beef in the hot oil in small batches until the meat has a bit of crusty goodness. Place browned meat in the bowl with the onions.
Deglaze the fond with the beef broth. Whisk in mustard, Worcestershire and dried herbs. Add remaining flavoring ingredients and bring to a boil. TASTE and adjust seasoning (salt may be needed if your broth is bland) as needed.
Add to pot in this order: Beef cubes & onions, potatoes, carrots & celery. (The majority of the potatoes should be covered with the broth.)
Bring to a boil.
Secure pressure cooker lid and cook on high heat until the pressure regulator begins to rock. Lower the heat to medium, or enough to keep the regulator rocking gently.
Set the timer for 15 minutes.
Follow the procedures in your pressure cooker's instruction manual to quickly depressurize your pot.
Using a colander, separate the cooked meat and veggies from the broth. Return the broth to the pot. Scoop out about 1 cup of broth into your mixing bowl and whisk in about 3 Tb of the reserved seasoned flour mixture. Add the flour slurry back into the pot of broth, and bring it to a boil to thicken.
Add the cooked ingredients back to the thickened broth.
Serve steaming hot with crusty bread and your favorite autumn beer.