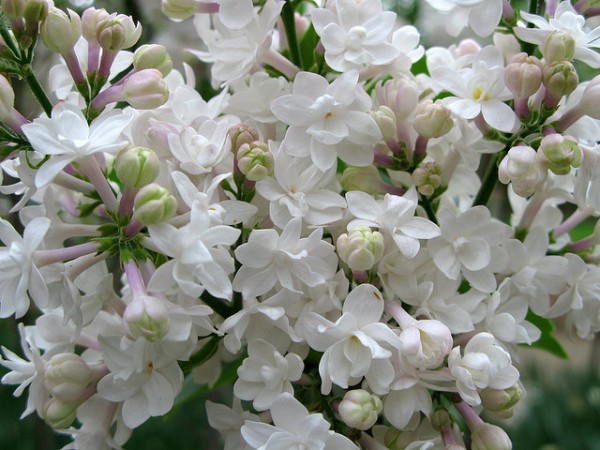 Marian, my sweet elderly neighbor, went to the hospital this morning, after fainting in her yard.
This morning, while I was working in my garden, I noticed my white lilac tree had bloomed. Marian was out in her yard retrieving the newspaper, so I trimmed some blossoms and took them over. She was wearing teal pants, a teal turtleneck, and a teal sweater – a monochromatic granny!
As she was walked back towards her house, paper in hand, she stumbled slightly over the edge of the sidewalk. I asked if she was alright, and said she was feeling dizzy — that she hadn't eaten her breakfast yet. I asked if she wanted for me to fix her some food and she said she'd be okay and that she was going to go in, read the paper, and have something to eat. I walked back to our yard, but never heard her screen door shut. I turned to check on her and she was leaning against her door, slowly slipping downward.
Leaping over the flower beds between our houses, I ran as fast I could. I caught her. She looked at me, smiled, closed her eyes and went completely limp. She barely weighed 100lbs. I gently lowered her to the soft grass and checked her pulse. It was faint, but there. She started breathing deeply and slowly. I said I needed to get some help, and not to try to get up.
It started to rain.
I heard the loud engine rumble of my neighbor Eric's delivery truck starting up, as he was getting ready to leave for work. I ran up the hill to his house. Jocelyn, another neighbor, saw me. I quickly told them what happened. Jocelyn called for an ambulance.
Eric, Jocelyn and I ran back to Marian's yard. I cradled her head in my lap to hold her and shield her from the rain. I ran my fingers through her beautiful white curls. She was so pale. She was whispering apologies to us for the trouble. We assured her it wasn't any trouble at all. I held her hand and said, "I love Marian! You're breathing, and you're talking to us… you're doing great. We're just waiting for the ambulance to get here." "I love you, too," she said. "You are the best neighbors." Eric held a large hoodie sweatshirt over her body as a make-shift umbrella. The sprinkle had turned into a rain shower.
The ambulance arrived in the alley. The EMTs quickly assessed her to make sure it would be okay to move her, and then we all helped her into her house. It was now pouring. We were drenched. I stayed with her and put together a bag of things for her — a pair of black double-knit pants, a light pink turtleneck, and a white cardigan. It was the first time I had ever been inside of her house, but it was exactly as I had pictured it: White carpets, lovely floral decorations with many plants and grandmotherly knickknacks.
As soon as the the rain let up, the EMTs and I helped her to the ambulance. She was able to walk slowly with our support, but she seemed disoriented. She stopped to complain that her trashcans had been knocked over instead of stood upright when they had been emptied. I locked up her house and brought her the keys. She quietly asked if I could call her daughter and gave me a last name and the area where she lived — but not an address. The EMTs wouldn't let her bring her lilacs with her.
As they pulled away, I placed her trashcans – upright – next to her garage. I ran back to our house to look up her daughter. I found an address, however no phone number was listed. "C'mon kids!" I said, scrawling down the address on an envelope. "We're going to drive over." It wasn't far — just a few blocks away.
No one was home when Micah, Leah and I got there, so we went to a neighbor's house to leave contact information. As we were talking, Marian's son-in-law came home. I explained to him what had happened. No one had known Marian had been taken to the hospital. He left immediately.
The kids an I are praying for Marian and hoping for an update soon.
In the meantime, Marian's lilacs are sitting pretty in a vase in my kitchen, waiting for her.
—
UPDATE – 4:30pm, Marian is home! Her daughters and son are with her now. I was able to give her a hug! :) Not sure what will happen next for her care, but what a wonderful relief to see her smiling.